Spread Healthy Smiles with Maska
Bite Energy With Elixir Bombs
Try Our Newly Launched Nutrition Bars
What makes Maska special?
We believe health is not a luxury and decided to act towards maintaining good health. To inspire generations to eat healthily, we created the Maska Peanut Butter range to add an extra spark of nourishment every morning. Maska is the by-product of in-depth research of nutritional value, organic practice, and rich taste.
Our ingredients – peanuts, brown sugar, pink salt go through complex quality checks to deliver the best for you. The quality of our products is crucial as our product contains no preservatives. When we say Maska Peanut Butters are straight 'outta nature' to your table, we ensure that there is no shadow of a doubt in it.
Give us a chance to brighten up your day with a spoonful of Maska. Say yes to a better lifestyle with our 100% organic, vegan, and gluten-free peanut butter.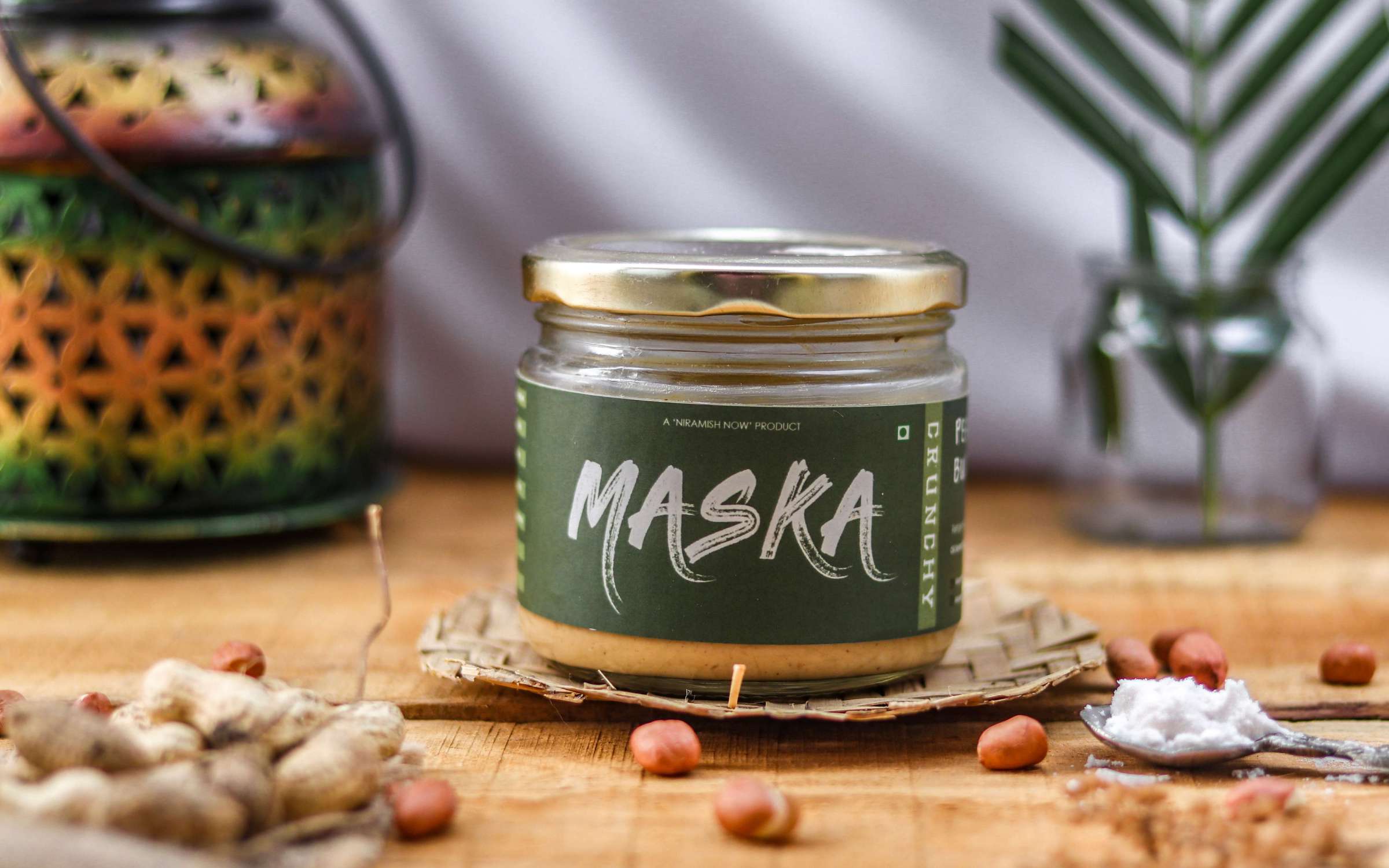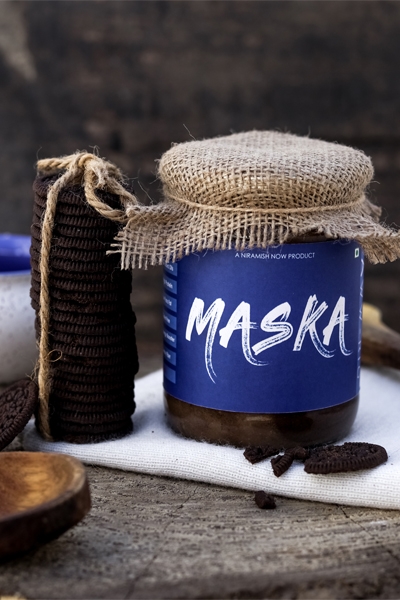 Making better choices with Maska:
Maska is an organic peanut butter infused with natural several natural healthy fats, excellent for a power-packed diet. Our peanut butter range is a prominent source of protein, fiber, and vitamins. Maska is low on saturated fats and cholesterol, keeping your heart happy and healthy.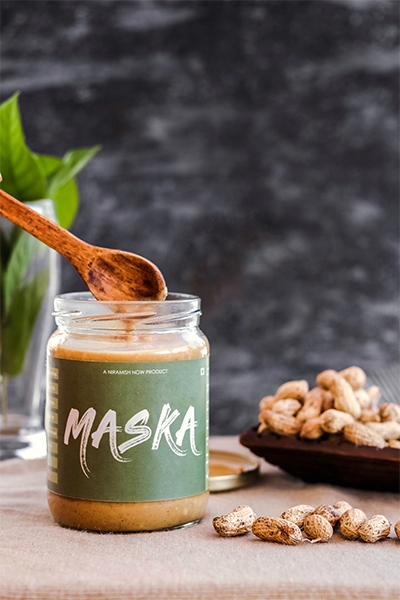 Making better choices with Maska:
Our produce is 100% organic. We believe that trust is built only by transparency. We choose fresh ingredients that go through multiple quality checks before getting processed to your favorite peanut butter. Our top ingredients are roasted peanuts, pink salt, and brown sugar. This ensures that every scoop you dig comes with great texture, rich taste, and packed with nutrients
to deliver health.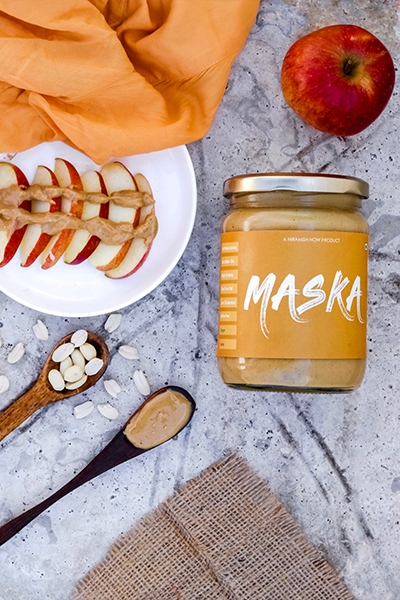 Making better choices with Maska:
Our motto is to deliver freshness in food. We don't compromise with our quality, even though preservatives increase shelf life. At Maska, we believe that freshness spread on loaves of bread or on your favorite fruits tastes better. We firmly stand by our "No added Preservatives" policy.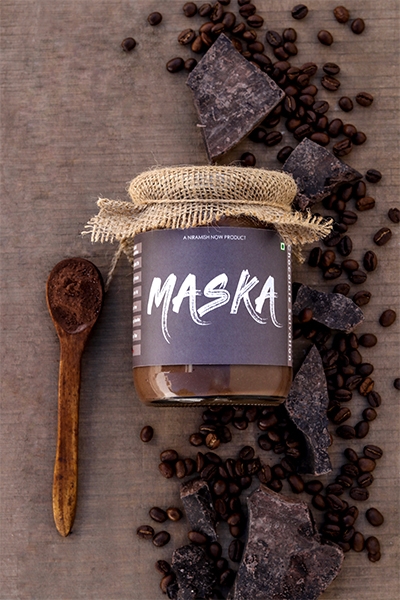 Making better choices with Maska:
GENETICALLY MODIFIED FOOD/ ARTIFICIAL FLAVORS AND COLORS :
Our Maska Range is 100% natural, with no added colors and no artificial flavors. We bring the all-natural rich color of nuts to our products. You will find that all our products are authentic to their organic form. The product has no concentrates or processed sugar.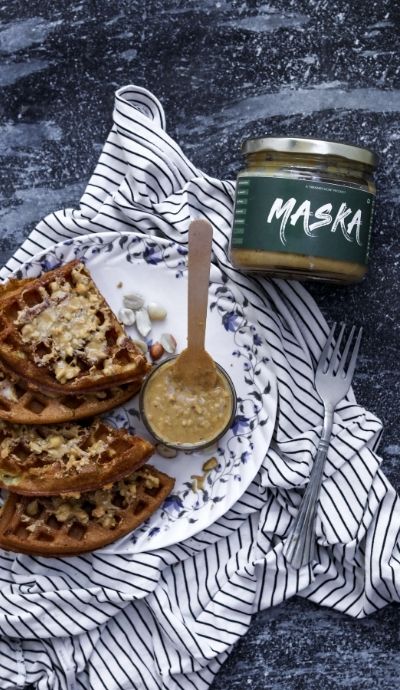 Making better choices with Maska:
We love our Peanut Butter, but does our Earth? Through all the processes from farms to delivery, we make conscious choices to minimize waste. We serve our butter in glass jars, which are easier to recycle than plastics. Our process of making peanut butter has significantly lesser emissions, thus a lesser carbon footprint. Go vegan with Maska peanut butter and save the planet.
Hear it from the Maskateers
Premium Nutritious hamper